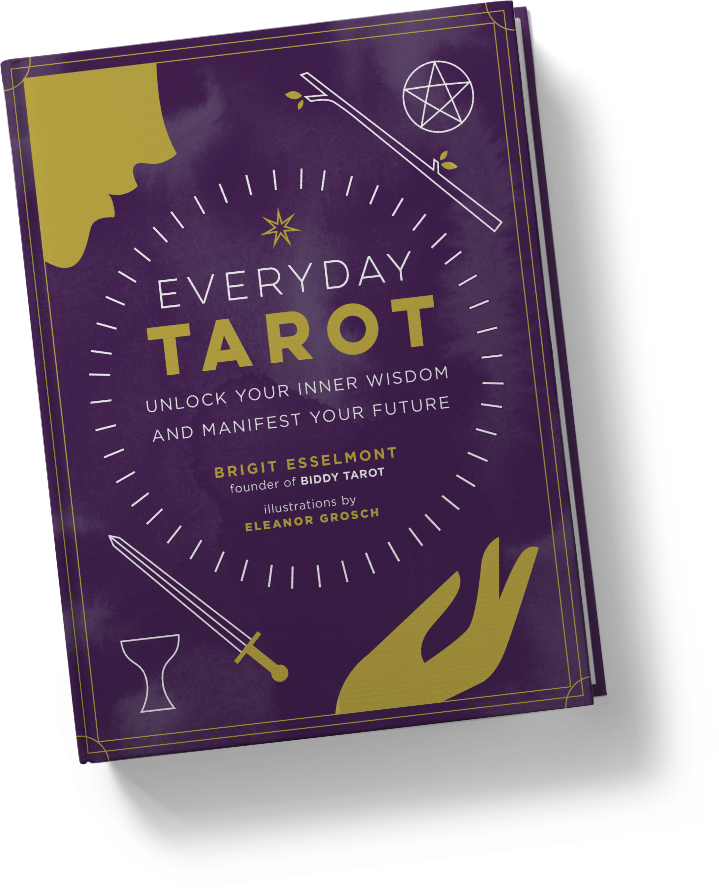 EVERYDAY
TAROT
Unlock your inner wisdom
and manifest your future
By Brigit Esselmont, founder of BIDDY TAROT
Illustrations by Eleanor Grosch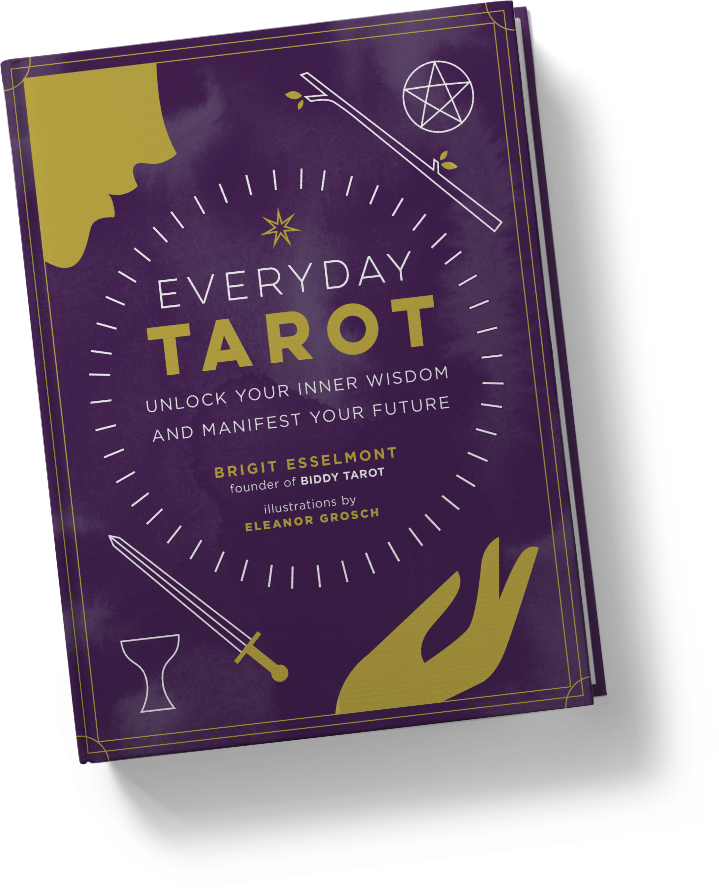 Everyday Tarot: Unlock Your Inner Wisdom and Manifest Your Future
What if…
… you could access your inner guidance any time you needed it?
… you could gain crystal clarity every time you faced a difficult decision?
… you could easily and effortlessly turn your dreams into reality?
This, my friend, is the power of Tarot.
Tarot is the mirror to your soul. And every card is an invitation to go deep within and connect your daily life with your divine purpose.
That's why I wrote, Everyday Tarot – to help you unlock your inner wisdom and manifest your future, with Tarot as your guide.
Everyday Tarot is a practical guide, filled with actionable tips, soulful activities and loads of Tarot spreads to help you access your intuition and manifest your goals and dreams in your everyday life. You'll discover how to use the Tarot to manifest your wildest dreams, create love-fueled relationships, set and achieve your goals, fulfill your soul's purpose in work and life, make important decisions, and bring the Divine into your life through everyday rituals.
"The beauty of Brigit's book has been guided by the stars. She is so practical and grounded (as a Taurus) it explains why this book is so useful. The Tarot is an ancient magical door that Brigit has made simple and clear. Welcome to practical magic - brought to you by a brilliant writer and an even better Tarot reader - Brigit."

Debra Silverman

Astrologer and Author of The Missing Element
"Everyday Tarot provides practical guidance for listening to that little nudge of intuition that's trying to steer you in the direction of alignment and fulfilment. Great for beginners and advanced readers alike, it's a fresh look at the old world of working with tarot."

Emily Thompson and Kathleen Shannon

Authors and hosts of Being Boss
"What if tarot wasn't mystical mumbo-jumbo but instead the ultimate tool for self-care, teaching us to access the deepest part of our own psyches? Everyday Tarot provides a plethora of practical tips to make tarot truly an everyday tool for merging intuition with intention. Right from the opening paragraphs Everyday Tarot will have you smiling and nodding along as it guides and illuminates your life as a modern day mystic."

Maia Toll

Author of The Illustrated Herbiary and founder of herbiary.com
"Everyday Tarot is a thorough book that helps you connect with your intution and integrate Tarot into all facets of your life. Brigit gives you all the tools you need to develop your own style and relationship with the cards, through spreads, her personal experiences, sample card pulls and more. I highly recommend it for Tarot enthusiast and processionals alike!"

Kelley Knight

Owner of Modern Mystic Shop, Professional Tarot Reader and Teacher
Why you don't need to be a 5th generation psychic to be intuitive. (I'll let you in on a little secret: We're all intuitive, including YOU!)
When it comes to Tarot, why fortune-telling is out, and intuition is in – especially if you want to create your best future and manifest your goals.
The quickest and easiest way to read Tarot and access your intuition
How to connect with your soul's purpose and make it a part of your everyday life
How to turn your goals into reality by aligning with your Higher Self and the guidance set forth by the Tarot cards
Why the Tarot cards will never tell you what you should do – only you can decide this (and that's a blessing!)
How to use your inner wisdom and intuitive guidance from the Tarot cards to make informed decisions about your life
How to bring intention and purpose into your work and career
The Couple's Reading – a beautiful Tarot spread designed specifically for couples to manifest a long-term, loving relationship together
Powerful rituals that align with the nature's cycles, to accelerate your manifestation powers
Ultimately, this book will show you how to bring Tarot
into your everyday life to create more peace, purpose
and potential.
Who is Everyday
Tarot For?
Everyday Tarot has been designed for people who are ready to say YES to their intuition and who are inspired to create their future, using Tarot as their guide.
If you're new to Tarot, I've got you covered with a crash course on how to read the cards so you can quickly and easily dive into the Everyday Tarot activities without having to be a master of Tarot.
And if you're a seasoned Tarot reader, you'll love the opportunity to venture deep into your soul and explore the Tarot cards in a new way that aligns your purpose with your everyday life.
EVERYDAY
TAROT
Unlock your inner wisdom
and manifest your future
By Brigit Esselmont, founder of BIDDY TAROT
Illustrations by Eleanor Grosch
CONTACT US if you want
to buy 50+ copies of the book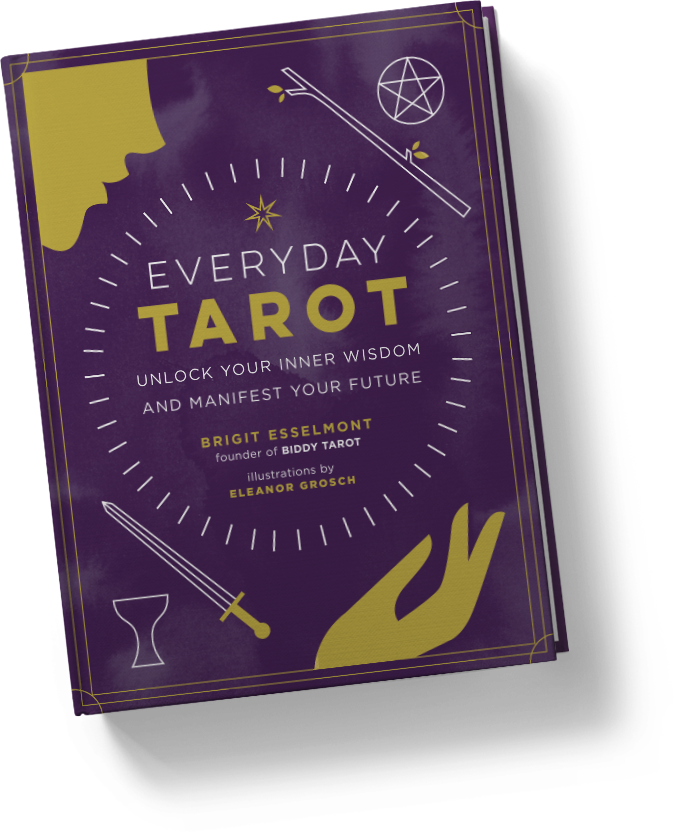 More Love for Everyday Tarot
"Everyday Tarot takes the reader on a guided self-discovery through tarot. Filled with reassuring insight to encourage the reader to tap into their intuition and develop it, Brigit shares many insights to her own personal journey with tarot while breaking down spreads for her audience in such a way that not only strips away self doubt but empowers the reader to trust their inner compass when reading the cards"

Bakara Wintner

Author of WTF? Is Tarot
"Everyday Tarot is such a joy to read. After reading Brigit's story and actionable inspiration, we went from very beginner tarot users to now feeling confident to use the tarot to unlock the answers that were already within, we just needed to listen, connect and tune in to our wisdom."

Emma and Carla Pappas

The Merrymaker Sisters
"Once again Biddy hits a home run! Everyday Tarot answers all questions, dispels myths and nurtures a loving connection between you and your deck.
From tapping into and developing your intuition to sacred ritual engagement, Everyday Tarot takes you by the hand and guides you in awakening to tarot as a lifestyle."

Leslie McAllister

Owner of metaphysical store, Juju
"In all the years I've known her, Brigit has never wavered from her life's dream to bring Tarot into everyday life conversations. Her new book promises a lot, and as usual her work delivers exactly what her vision has been. Simply crafted, Everyday Tarot takes you through the journey of understanding using Tarot for personal everyday living. A wonderful book to simplify Tarot, from the woman who makes this work very accessible for everyone."

Tori Hartman

Bestselling author of Chakra Wisdom Oracle Cards
"Biddy Tarot has always been my go to and this book tops it off! Fun, inspiring, insightful and useful - reading this book not only deepened my tarot practice but also strengthened my intuition!"

Betsy Le Fae

Former NYC psychic medium turned intuitive, healer & teacher in LA.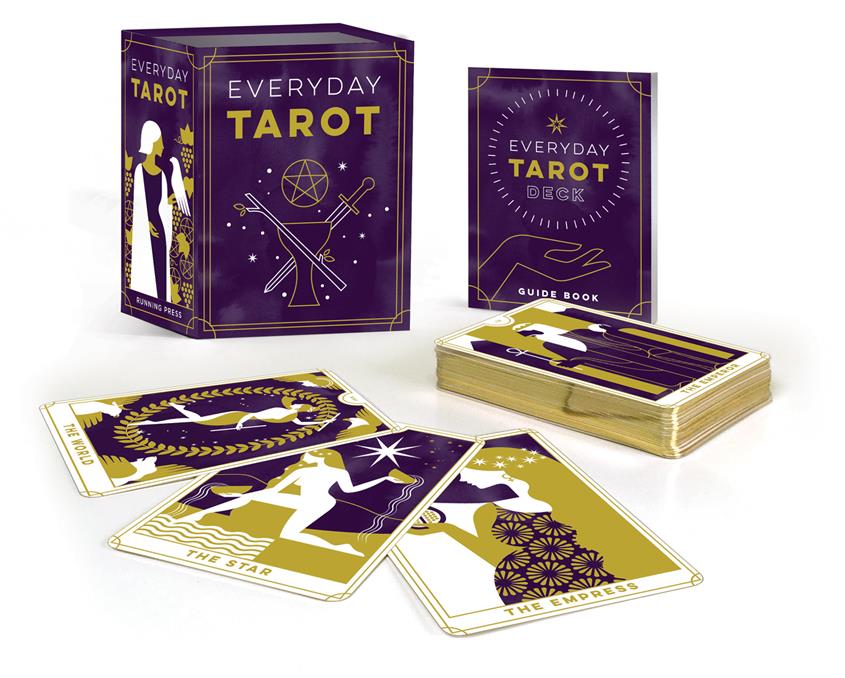 Everyday Tarot
Card Deck
The Everyday Tarot Kit offers a fresh approach to Tarot, with a modern, beautifully illustrated deck, a helpful guide to the cards, and a beautiful keepsake box.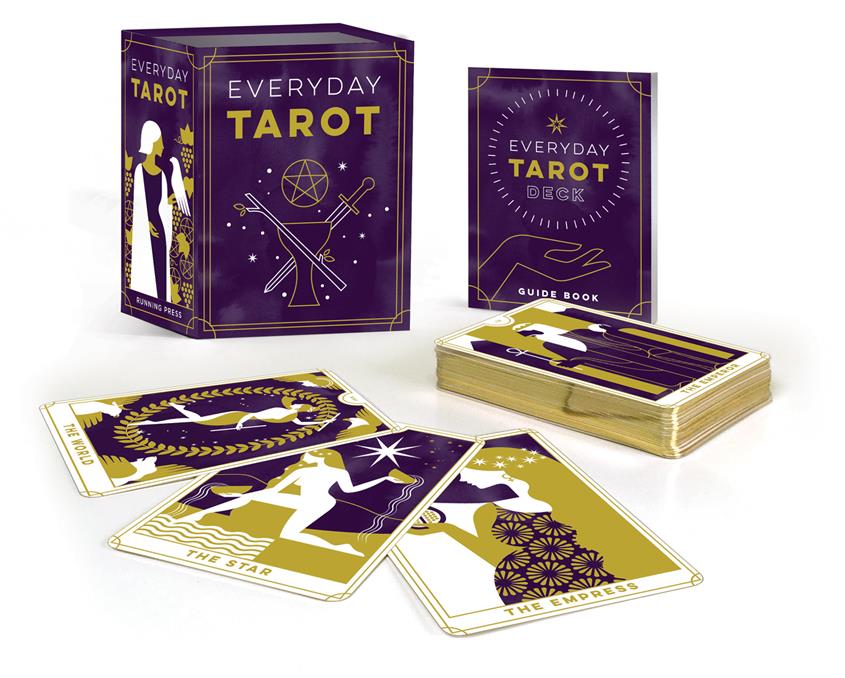 Everyday Tarot brings a new perspective to the cards, giving modern soul-seekers the tools they need to access their inner wisdom and create an inspired life. This charming package, featuring stunning cards and a magnetic closure, will appeal to Tarot veterans and novices alike!
This kit includes:
A mini Tarot deck (2.5 X 3.5 inches), with 78 fully-illustrated cards.
An 88-page mini book, with card meanings and sample spreads.